OnLive Yoga
Check out a great FREE resource for doing Yoga at home or at work!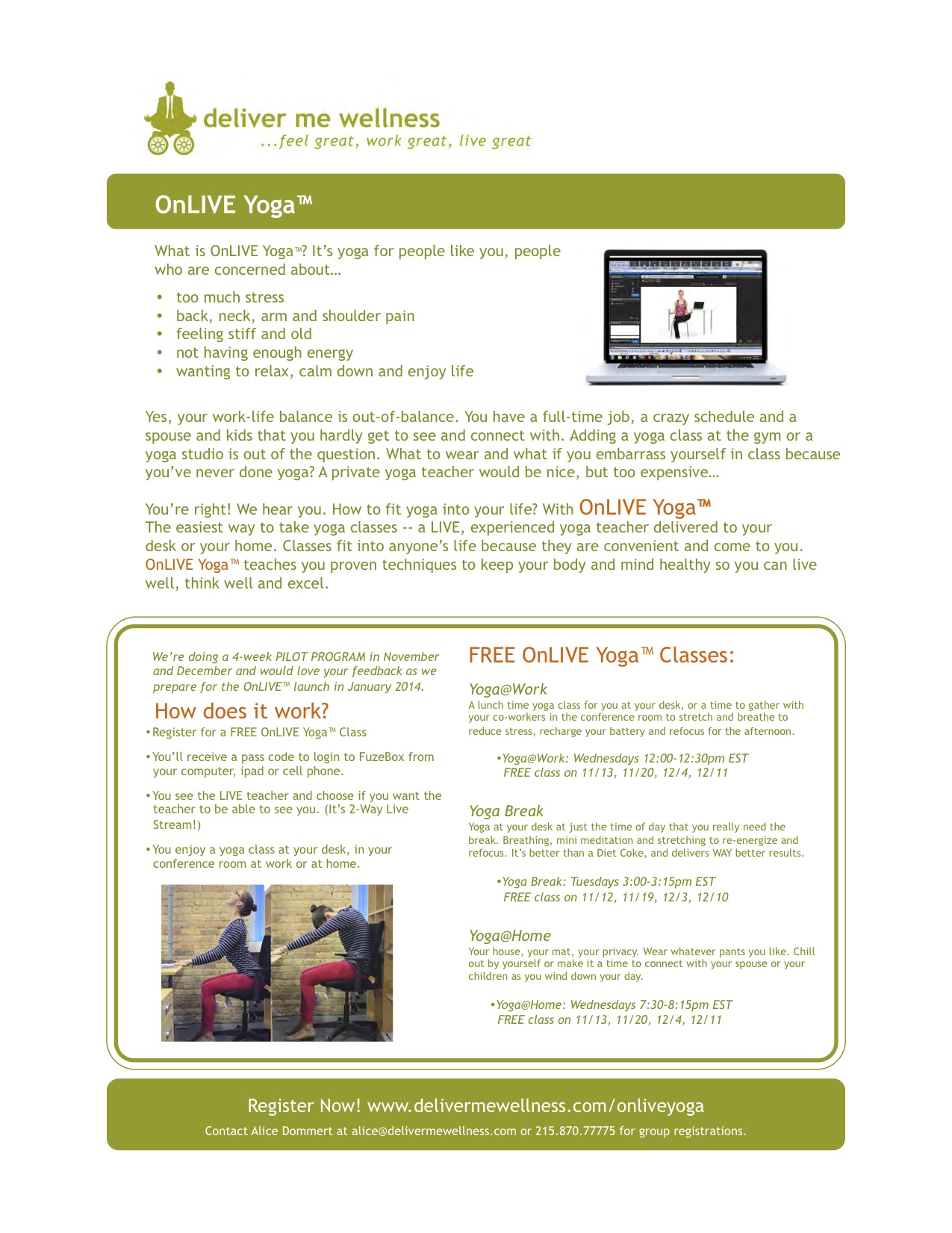 What is OnLIVE Yoga? – It's yoga for people like you, people who are concerned about…
  too much stress
  back, neck, arm and shoulder pain
 feeling stiff and old
 not having enough energy
 wanting to relax, calm down and enjoy life
Yes, your work-life balance is out-of-balance. You have a full-time job, a crazy schedule and a spouse and kids that you hardly get to see and connect with. Adding a yoga class at the gym or a yoga studio is out of the question. What to wear and what if you embarrass yourself in class because you've never done yoga? A private yoga teacher would be nice, but too expensive…
You're right! We hear you. How to fit yoga into your life? With OnLIVE YogaTM The easiest way to take yoga classes — a LIVE, experienced yoga teacher delivered to your desk or your home. Classes fit into anyone's life because they are convenient and come to you. OnLIVE YogaTM teaches you proven techniques to keep your body and mind healthy so you can live well, think well and excel.
We're doing a 4-week PILOT PROGRAM in November and December and would love your feedback as we prepare for the OnLIVETM launch in January 2014.
How does it work?
 Register for a FREE OnLIVE YogaTM Class "You'll receive a pass code to login to FuzeBox from
your computer, ipad or cell phone.
 You see the LIVE teacher and choose if you want the teacher to be able to see you. (It's 2-Way Live Stream!)
 You enjoy a yoga class at your desk, in your conference room at work or at home.
FREE OnLIVE YogaTM Classes:
Yoga@Work
A lunch time yoga class for you at your desk, or a time to gather with your co-workers in the conference room to stretch and breathe to reduce stress, recharge your battery and refocus for the afternoon.
Yoga@Work: Wednesdays 12:00-12:30pm EST FREE class on 11/13, 11/20, 12/4, 12/11
Yoga Break
Yoga at your desk at just the time of day that you really need the break. Breathing, mini meditation and stretching to re-energize and refocus. It's better than a Diet Coke, and delivers WAY better results.
Yoga Break: Tuesdays 3:00-3:15pm EST FREE class on 11/12, 11/19, 12/3, 12/10
Yoga@Home
Your house, your mat, your privacy. Wear whatever pants you like. Chill out by yourself or make it a time to connect with your spouse or your children as you wind down your day.
Yoga@Home: Wednesdays 7:30-8:15pm EST FREE class on 11/13, 11/20, 12/4, 12/11
Register Now! www.delivermewellness.com/onliveyoga     Contact Alice Dommert at alice@delivermewellness.com or 215.870.77775 for group registrations.