OUR ELEVATOR IS NOW OPEN FOR USE!!!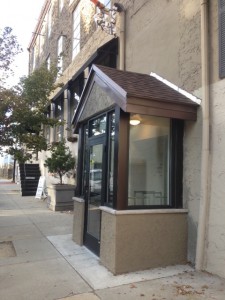 Thanks so much for your patience and continued patronage during the construction of the elevator.
If you have a friend or loved one who couldn't make it up the stairs, now is the time to tell them about Manayunk Roxborough Community Acupuncture!  If you had difficulty with the stairs yourself, come back in to see us!  We are now handicapped accessible!
To use the elevator, enter the vestibule on the sidewalk (pictured left) and push the button for the 3rd floor.  Once you come out of the elevator, turn left and come down the hall to our office reception area.
Welcome to Manayunk Roxborough Community Acupuncture!
See what our patients think about us!  See our Reviews!
Manayunk Roxborough Community Acupuncture is a community acupuncture clinic in Manayunk, Philadelphia.  Started in 2008 in Roxborough, we recently moved to Manayunk to a great new office space.  We provide acupuncture in big, cushy, comfortable, reclining chairs.  Gentle music plays in the background. Most people lie back and fall asleep, or drift into a calm, peaceful mental state.
Our sliding scale is $25 – $45. Why a sliding scale? And, why  such a low cost? Well, because it allows you to spend what you can truly afford, instead of having to sacrifice your well being for the sake of other priorities in life. It also allows more people to come for treatment, and to come more often…so that you get the true benefit of acupuncture…which is getting, and staying, well.
We provide treatment for:
Back Pain • Joint Pain • Quit Smoking • Chronic Pain •  Allergies • Asthma • Infertility • Acid Reflux • Depression • Anxiety • Stress • Insomnia • Addiction • PMS • Menopause • Hot Flashes • Migraines • Back Pain • Immunity • Sinusitis • Sciatica • Neck Pain • Lung Issues • Post Op Pain • Athletic Performance • Sports Injuries • Stroke • Chemo Support • Mesothelioma • And Much, Much More!
Athletes: we are experienced in treating athletes to support optimal performance, reduced recovery times, and recovery from injuries.
We are located at 4001 Main Street, Philadelphia, PA 19127
It's officially February, also known as the month when most well intentioned New Year's resolutions die. If you're like most Americans, and as reported by U.S. News, 80 percent of resolutions are dead and buried by this month. Valentine's Day […]
---
---
---
---
---
---
---
---
---