Would you like to see a healthy foods co-op like Weavers Way come to our neighborhood?
Then please join us for a public meeting to show our community's support.   We need you there!!!!
COMMUNITY SUPPORT MEETING
Wednesday April 18th at 7 PM
at the Mishkan Shalom 4101 Freeland Ave  
This meeting is open to the public and your participation is vital!  Without a good turnout, Weavers Way may decide there is not enough interest  to come to Roxborough or Manayunk!
It is vital that we have a great turnout at the meeting! 
Weavers Way will be judging the strength of our community's support by how many people show up for this meeting.  We need  200+ people in attendance to show that our community wants a health foods co-op here!  Please attend!
Board members of Weaver's Way Co-op will explain the steps that we, as a community, must take to make this dream a reality!
It is vital that we have a great turnout at the meeting!  So please……
Join us on Wednesday April 18th at 7 PM at at the Mishkan Shalom 4101 Freeland Ave  We need you there!!!!
Questions?  Call Dave Schiman at 267-417-0147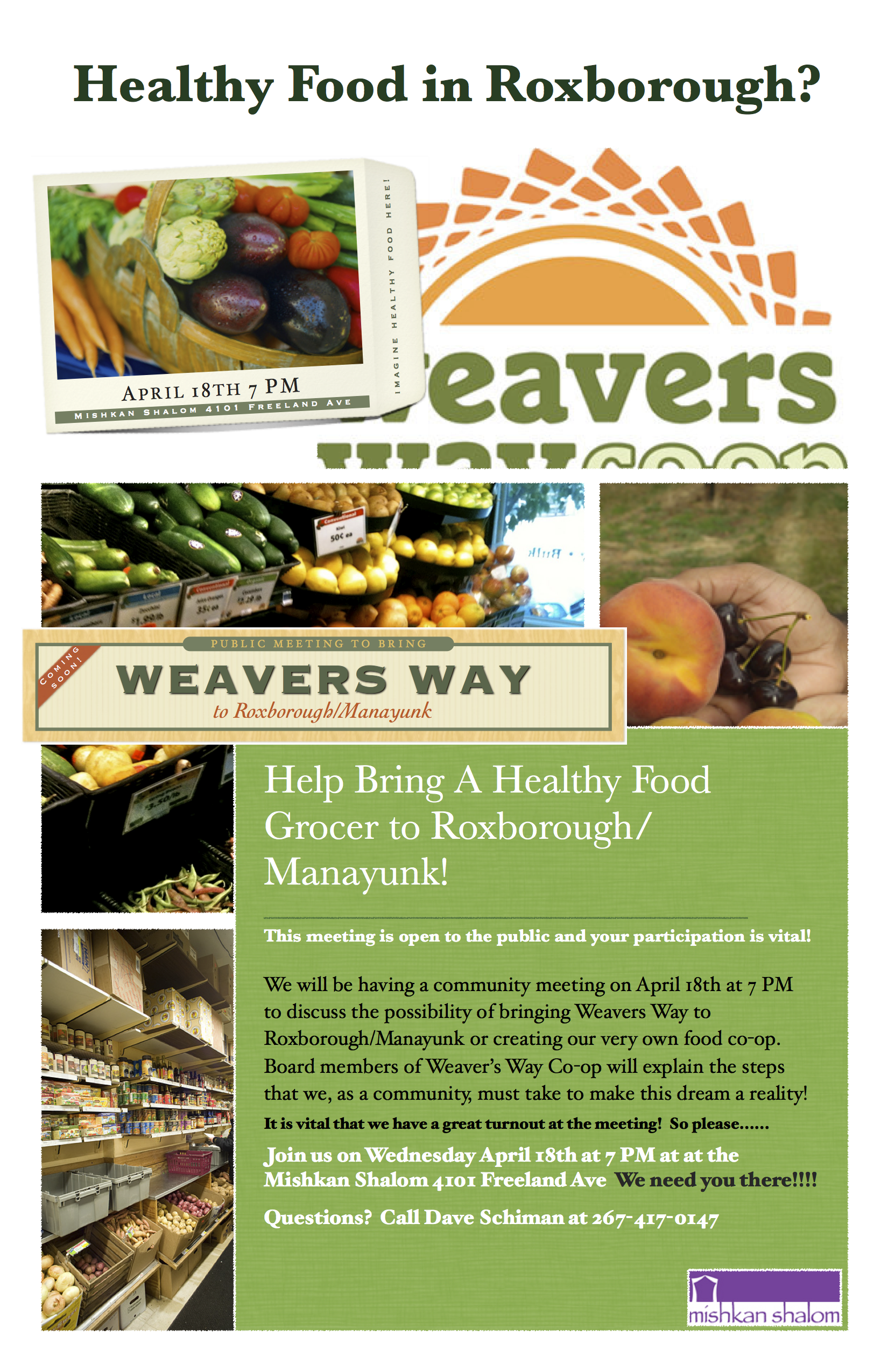 ABOUT WEAVERS WAY
Food is never just food:
It's sitting around a table, sharing conversation with friends.
It's a cultural heritage.
It's the way it's grown: Does it help or harm the environment? Does it support or destroy the farmer who grows the food, and the community he or she lives in?
The food we eat represents our values, and our hopes and aspirations for our community and our region.
That's why being a member of Weavers Way Food Cooperative is so gratifying.

By the simple act of buying the food we eat, we're supporting local farmers. We're working cooperatively with each other to take control of what we eat and where it comes from. In the language of the local food movement, we're EATERS, not passive CONSUMERS.
The food at Weavers Way is the best.

Fresh local fruits and vegetables—including the truly local, from our own co-op farm in East Mt. Airy. The cheese selection is phenomenal. The dried fruits, nuts and grains are a great value. The coffee is not just a great value, but also organic and fair trade certified—and most of it comes from local roasters. Beautiful flowers year-round. Incredible breads from the best local bakers. The list goes on and on.
Weavers Way is not a health food store. It's got its share of healthy foods, and its equal share of guilty pleasures and luscious indulgences.
And the shopping experience itself is wonderful. 

It little crowded, maybe, but the more you shop, the more you start bumping into friends and acquaintances. Cozy and intimate. And at the corner of Green and Carpenter in Mt. Airy, which is becoming a wonderful little cultural center, with a dance and movement studio, a book store, a wonderful coffee shop, a wellness maternity center and more. Our newest store, in Chestnut Hill, offers even more, including an expanded bulk section, and a great new prepared foods department. 
There are many other benefits of membership. 

Our good values and great food are the most obvious. But there are other benefits, including access to an energy co-op and a credit union. Browse through the other pages about membership listed at left to learn more. Come visit our stores and let a staff member know you're thinking about membership.
Help Bring A Healthy Food Grocer to Roxborough/Manayunk!
This meeting is open to the public and your participation is vital!
COMMUNITY SUPPORT MEETING
Wednesday April 18th at 7 PM
at the Mishkan Shalom 4101 Freeland Ave